Video production company in London
OK… So you're looking for a video production company in London to help you produce your next video?
If you're new to video, we know that it can feel daunting. Where do you start? What equipment will you need? How much does it cost?
We understand that the pressure is on to get it right.
That's why we created Social Films.
We help businesses just like yours to create stunning videos that look amazing, don't cost the earth and deliver the results you need in record time.
You don't need to know anything about video. We'll be right by your side at every step.
So… What are you waiting for?
Video production services
Don't worry! We'll help you to find the video production service you need in seconds ⚡️. Click below to learn more about our services.


"The video looked fantastic. Stunning & Top Class"


"Their professionalism is always exceptional"


"They have a great eye for detail. Highly Recommend"


"Fantastic team.
Fantastic results."
What is video production?
In its simplest form, video production is the process of creating video content from start to finish.
No matter whether it is for a Hollywood blockbuster or a local business, the process is very similar.
The video production company comes up with an idea for a video. They script it, film it and edit it in to a finished video.
Thanks to modern technology, anyone can buy a video camera and record a video.
However, what sets video production companies apart is their ability to understand:
What type of video will work best for your audience
The most cost effective way of producing video

How to generate results
Video production has grown significantly in recent years and is estimated to be worth $135 billion.
In the United Kingdom in 2018, there were nearly 15,000 film and video production companies in operation – almost 8,300 more than there were just ten years prior to that!
What are the benefits of video production?
It's 2020… And video content is everywhere.
On YouTube alone, we watch over 1 billion hours of video every day, so incorporating videos into your digital strategy can significantly boost your rankings and allow your business to reach more customers.
Now more than ever, content needs to stand out from the crowd. Done badly and you'll send people to sleep and damage your reputation. Done well and video production has the power to educate, entertain and turn clicks in to profit.
A professional video production company will allow you to tap in to additional benefits such as increased SEO and better sales conversions.

By 2021, it is expected that the average person will be consuming an incredible 100 minutes of content every single day.
The benefits are clear. There is an insane appetite for video content. It also represents a key opportunity for marketers to increase customer trust and boost brand loyalty.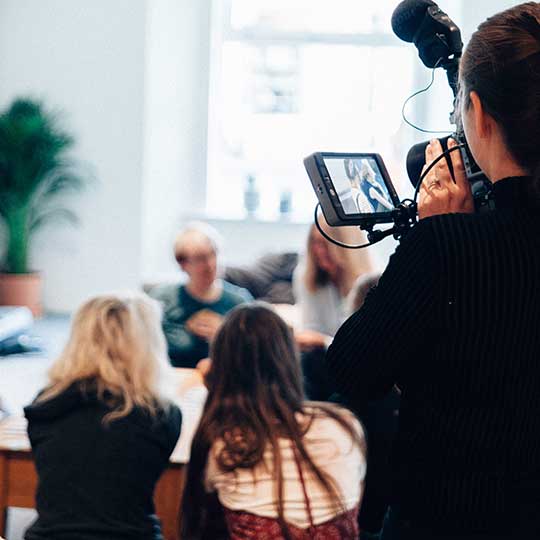 High-quality video production doesn't need to be complicated, time consuming or expensive. However, just whipping out your phone and filming something probably won't cut it.
The process of producing a video often involves a number of people and typically there are three major processes. Let's take a look at how it all fits together at Social Films.
C'mon, let's check it out!
On any given day at Social Films, we're working on many different videos.
But they all start with planning.
The first step is to come up with an idea for the video.
We look at what you've done in the past and we spy on your competitors
Once that has been done, you can begin writing the script. Writing might not always be something people will consider in video production, but without a proper script or video board being created, it is very hard to produce a powerful and coherent video.
Outlining the process and flow of the video is one of the most important aspects of pre-production that you can do. This does not mean that you need to script out every single word that will be spoken, but instead developing an understanding of who will be interviewed, where the video will be filmed, what the overall aim will be, and where the video will be distributed.
Once you have these in place, you can then go on to choose your cast, prepare lighting and sound requirements and source suitable locations. The more in-depth you go during the pre-production stage, the easier the rest of the process becomes; helping to make the whole project smoother and more efficient.
Once you have fully planned the video, the second stage is to begin the production. This is the stage where you film and capture absolutely everything that you possibly can. The script and guide you have produced should be a checklist of everything that needs to be filmed, however, it should not be restrictive – quite often, additional ideas are created during the production stage too.
It is important not to rush the production stage. It is always a very costly procedure to have to go back and reshoot anything, if that is even possible, so it is important that you film more footage than you think you will need. This is referred to as the b-roll and you should aim to capture footage of varying distances – from wide-angle shots to close-ups to cover every requirement.
If you are undertaking the filming yourself, then make sure you have the required equipment – using tools such as a gimbal or tripod will help to ensure your footage is smooth and professional. If you are using an exterior company, then it is always a good idea to be on location to ensure the video follows the plan you have.
With the footage filmed and captured, the final stage of video production is post-production, which is where it is all merged together. This can be very a time-consuming task to ensure that all scenes merge together and the audio is synced up and any special effects, such as text overlays, are included.
This process is where the true creativity of the video production company comes to life, so this can take some time to finish. Editing will mean cutting lots of the footage that you might have secured, but the focus should always be on telling the story in the most succinct and engaging clip possible.
In recent years, post-production and distribution have merged slightly as nowadays, each video clip will likely need to be edited to meet the required specifications of the various networking sites it will be shared on. This optimisation process, whether it is creating a 60s clip for use on Instagram or a more in-depth feature version for Facebook, is very important nowadays and is often the make or break difference in the success of a business.
Client List
We've produced video for startups and small, ambitious businesses, as well as those already in the news: